As a busy and popular wedding and party band we have been exhibiting at wedding shows and fairs for many years and thought it would be good to share some of our experience and tips for visiting wedding fairs.
Look around for fairs that suit your style, there is no point going to a fairy tale wedding fair if you want a gothic wedding. There are so many fabulous fairs out there, do some research. A quick

Google search

for wedding shows and fairs local to you will pop up.

Save your cash – There are many free to attend wedding fairs all across Fife, Edinburgh and the Lothians. We exhibit at free to attend wedding fairs at Balbirnie House Hotel in January and September every year, as well as Craigsanquhar wedding fair usually in February. Sometimes there is also free bubbly on arrival, so worth a visit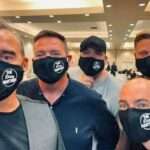 When you arrive at the fair or show take your time, don't rush, remember that we have paid to attend and are there to talk to you and find out what you want.
It's easy to get overwhelmed. You can often leave the fair by getting a stamp on your hand. Sometimes taking a break is a good idea, go for a walk, and come back after you have thought of what you want to find out.
Take business cards/flyers of suppliers you like the look of so you can contact them after the day and tell them where you saw them. Find their Face book Pages and link up with them on Twitter and Instagram.
Ask if you can see the band perform live, we often play public gigs to showcase the band.
Take people along that want to be there. If your partner isn't up for it, don't drag them along; it will just annoy you, and them! Equally, if your partner does want to get involved don't whatever you do leave them out of it.
Take cash, you never know what you might find. Some suppliers take card payments on the day but wouldn't it be awful to miss out on something special?
Don't feel pressured, but don't miss out, if a photographer you adore has your date available, consider paying a deposit on the day.
We advertise fairs we are attending so it's worth liking a band Face book page and looking out for notifications in your news feed.
Remember this. You only get married once, hopefully, enjoy this, don't get stressed; all that matters is that you are marrying the person you love.
Chat with suppliers you are interested in to get a feel for the work they do and if you are on the same wavelength, we love a bit of banter and laughs with clients. Have Fun!
The Dirty Martinis post on our Facebook page under events when we are exhibiting at Wedding Fairs, if you would like to discuss your big day please pop along to meet some of the guys from the band.
We hope you find these tips helpful!