Introduction
When dealing with live music, it's a good idea to check that your venue can accommodate a band and has the necessary license and resources to make things work from the offset.
Below are a few queries you may want to ask your venue before you hire a live wedding band or musician.
1. Does your venue license allow live music?
Let's start with the obvious – does your venue even allow live music? With noise pollution, aggrieved neighbours and stricter laws taking effect, many venues simply aren't granted permission to host live music as part of their license agreement.  
2. Does the wedding venue have a sound limiter?
Sound limiters are simply all the rage these days; with those pesky musicians pushing the volume at every available turn (apparently), sound limiters have now become the must-have tool in the venue arsenal.
But what is a sound limiter and how do they work?
A sound limiter is a small device that detects the volume of the room by way of an attached microphone. Should the volume go beyond the set limit for more than a few seconds, the power source will automatically be cut – much to the disappointment of the musicians and guests!
Sound limiters are usually set anywhere between 85db and 105db, depending on the venue's circumstances. Most professional party bands these days are familiar with sound limiters and accept them as par for the course, however, some bands do have a threshold on what they feel comfortable with and simply won't perform below a certain volume; this is due to the negative effect this can have on their sound and also the potential damage a power cut can cause valve amplifiers.
Please let us know if your venue has a sound limiter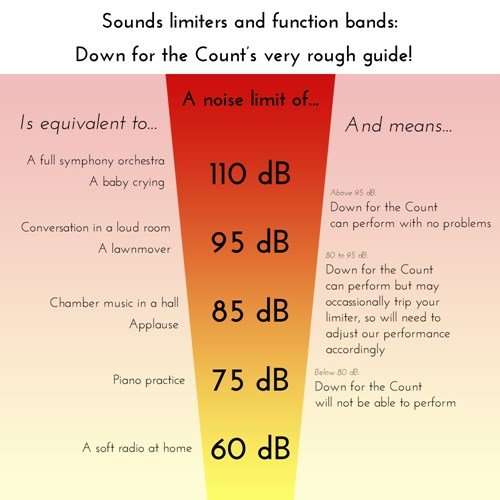 3. Do you have a built in PA system?
Many venues have their own sound systems built in and so if this is the case you'll need to run the PA spec past your chosen band to double check everything is a-ok. Similarly, your venue may also request the band's tech spec in order to confirm suitability.
If the venue does have its own PA installed, you'll need to find out if this is purely optional or if the band are obliged to use it. If so, the venue may also require you to hire their own in-house sound engineer with knowledge of the system in order to ensure that things run smoothly (and they may even charge you for this).
4. Are there any other sound limitations?
There are numerous other limitations that may come into play. For example, some venues only allow electronic drums rather than a traditional live drum kit. This is because an acoustic drum kit is often the loudest element of the band and keeping the volume down can be extremely difficult, even with the use of 'hot rods' (i.e. softer sounding drum sticks).
Going one step further, certain venues don't allow the use of guitar or bass amps, instead, bands may be required to go straight into the in-house PA system and use in-ear monitors instead of on-stage speakers. 
5. How much space is available for the band and how many musicians can you accommodate?
This is an important one – on more than a few occasions we've experienced clients who have booked us only to find out that their venue will only accommodate a trio or 4-piece line-up.
Always ask your wedding band for their required space requirements and double-check with your venue before deciding on your line-up.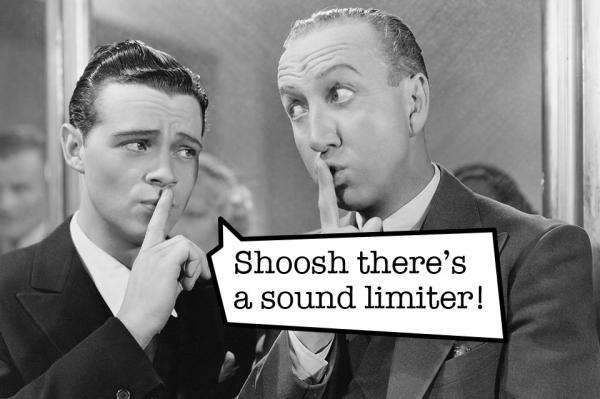 6. Is there access to a sufficient power supply?
Whilst an obvious one, there have been occasions where we have struggled especially with marquees. We require power supply, whether that be from an outside socket, extension from the main building or from a generator.
7. Are you able to provide meals and soft drinks for musicians?
To avoid any awkward conversations further down the line, check with your venue to see if this is something they can accommodate. Some venues may not have the facilities in which case I'd encourage you to speak with your musicians beforehand in order to work out an alternative arrangement.
8. Is there sufficient unloading and parking available for the band?
This query is targetted more towards central city venues where unloading and parking is often a little more restricted.
Certain parts of Edinburgh & Glasgow can be difficult to unload and park at.
Your band will most definitely need a legal space to park their vehicles when loading in, so do check with your venue to ensure you'll have access to a loading bay. Furthermore, if parking isn't available on-site, you may be required to cover the band's parking fees – another thing to take on board when working out your wedding entertainment budget.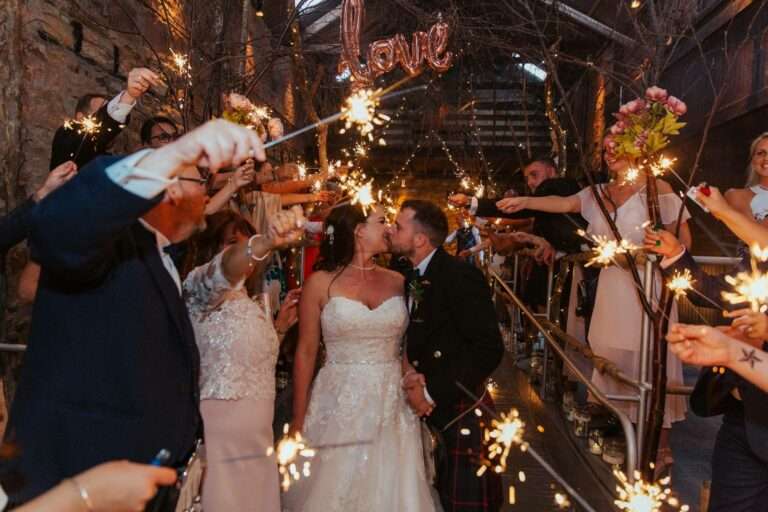 9. Does your venue have a dancefloor?
Always worth checking if not able to view your venue. There are many first class local company's who can assist with dance floor hire.
10. Is there a live music curfew?
Always ask about your venue's curfew, as whilst most venues offer a midnight finish, some do require live music to end a little earlier in order to adhere to their license agreement.
This list is by no means exhaustive, there may be numerous other things that come up during the planning process, but this should put you in good stead for a smooth run-up to your big day.
What Else Do Clients Need to Know?
If a sound limiter is set at a very low volume, you'll need to be mindful of the fact that your guests could easily set it off as well. It only takes a loud cheer or applause at the end of a song to set off an extra sensitive limiter.
If live music is an important aspect of your wedding or party, always speak to potential venues before making a booking as you may find it's only brought up in the small print of their contract. It's very difficult for 100-150 guests to enjoy themselves if a limiter is set at 80dB (quieter than a hairdryer) and so you may decide to look into an alternative venue.